St. Olavsleden
Selånger – Stiklestad – Trondheim
St. Olavsleden is one of the world's northernmost pilgrim paths, extending from the Baltic sea to the Atlantic sea, through Sweden to Norway.
From coast to coast, crossing two countries
The St. Olavsleden starts in the town of Selånger, on the east coast of Sweden and ends in the Nidaros Cathedral in Trondheim. A distance of 580 kilometers from start to finish! It follows parts of the road that Olav Haraldsson traveled when he returned from Novgorod in Russia in the summer of 1030 to recapture the Norwegian throne. A journey that ended with the battle of Stiklestad, the death of Olav Haraldsson and the start of the era of St. Olav.
How to do a pilgrimage on the St. Olavsleden?
St. Olavsleden is divided into 29 stages from the starting point Selånger to the Nidaros Cathedral in Trondheim. Each stage average is about 20 kilometers, but some are up to 30 kilometers. You can find a stage plan at stolavsleden.com. St. Olavsleden goes through many towns, which means it is easy to get to almost anywhere along the path to do shorter stages. Accommodation varies from simple cabins, hostels and camping to hotel rooms.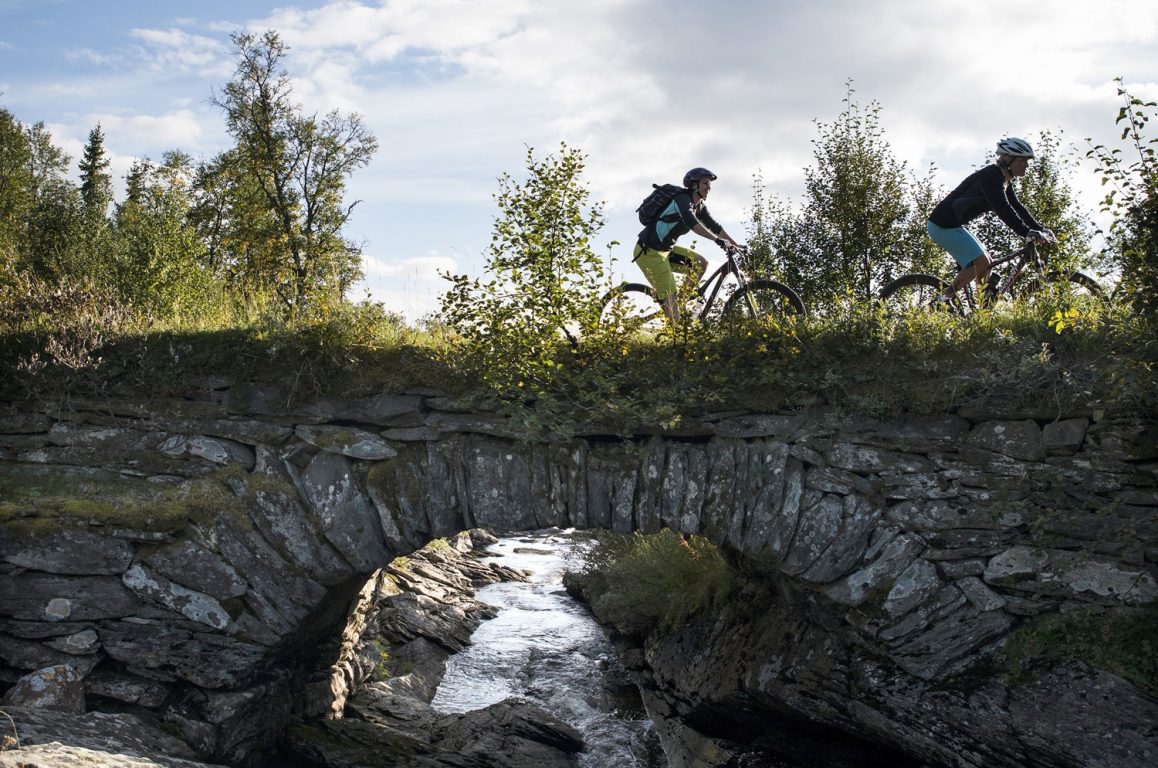 St. Olavsleden in Sweden
Large parts of the St. Olavsleden pass through Swedish nature and agricultural landscapes. Through wooded areas, along lakes, mountains, small towns and historical sites. It takes a total of approx. 4 weeks to walk the entire St. Olavsleden from Selånger to Trondheim, depending on the pace of the pilgrimage and choice of execution. Some pilgrims walk parts of the path, combining the pilgrimage with trains. Other pilgrims choose to take the opportunity to ride the St. Olavsleden by bike, which is excellent - especially on the Swedish part of St. Olavsleden.
What surfaces do I walk on?
About 45% of the St. Olavsleden follows dirt roads, 36% is paved roads and 19% is trails/paths. With such a varied base, good footwear is important. You can read about footwear choices and other useful tips and advice on package list and preparations.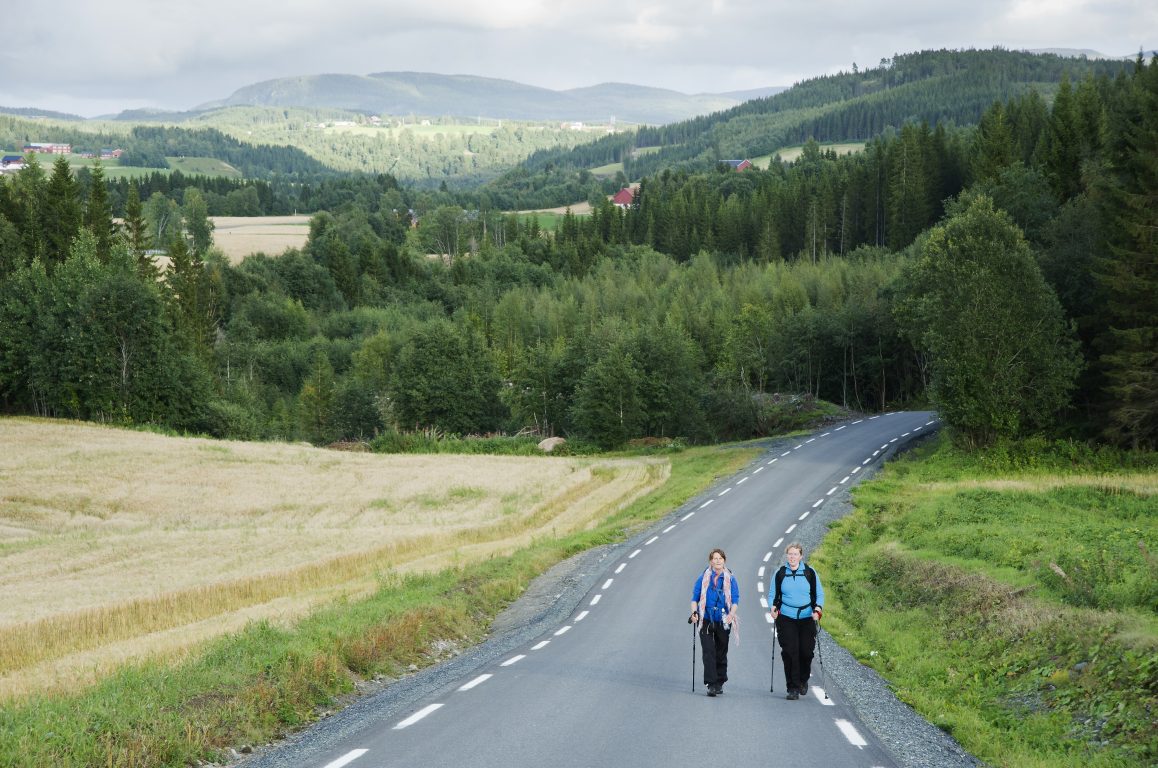 St. Olavsleden in Norway
The border between Sweden and Norway lies in Skalstufjellet, a beautiful mountain area between the neighbouring countries. After several days of asphalt walking in Sweden, the pilgrims will now meet the Norwegian part of St. Olavsleden. It passes through forests, valleys and agricultural landscape.
Stiklestad
53 km from the border between Sweden and Norway is Stiklestad. Here, the Viking king Olav Haraldsson was killed in a major battle that took place on July 29, 1030. This event would have great significance for the development of the Norwegian nation. Today there is a church on the site where the king died. Also nearby is the Stiklestad National Cultural Center and Hotel. At Munkeby, a day walk from Stiklestad, the path divides into two alternative routes. Here, you have to make a choice on whether you want to continue the pilgrimage along the fjord or in the forests.
The fjord alternative
St. Olavsleden's fjord alternative route goes through towns and villages on the Trondheim fjord where the historical sites are regular. The fjord route is mostly on asphalt, so good shoes are a must. It's easy to find grocery stores, and you can stay in simple hostels and larger hotels. Anyone who chooses the fjord route must travel by boat from Frosta / Tautra - either to Steinvikholmen or directly to Trondheim.
The forest alternative
This part of the St. Olavsleden passes through deep forests. It is characterized by silence and nature. Pilgrims who choose this route will walk on forest trails and dirt roads. It is a long way between the shops and the pilgrims must either carry food or buy food at the simple hostels along the route. Hikers are advised to book food and accommodation in advance.
When can I do a pilgrimage on the St. Olavsleden?
The main pilgrimage season is from mid-May to mid-September. In May and September there may be snow in some places. If you want to go earlier or later than in the main season, contact the tourist offices and the regional pilgrim centers along the St. Olavsleden for more detailed information on the conditions.

The weather is varied in season, and the eastern part of the path is usually warmer. From Östersund to Trondheim it can be colder, especially over the border mountains. Keep a close watch on the weather services www.smhi.se (this applies to Sweden) and www.yr.no (this applies to Norway) so that you have the right equipment and clothes for the pilgrimage.

For maps and descriptions of stages in Sweden, please visit www.stolavsleden.com
Guidance and information from regional pilgrim centers
On the St. Olavsleden you will find two regional pilgrimage centers which you can visit during the pilgrimage or contact in advance for advice and guidance. The centers are located in Selånger, Sweden and Stiklestad, Trondheim.
If you are planning to start your pilgrimage in Selånger, Sweden, we recommend that you visit Selånger Pilgrim Center.
If you are going to walk St. Olavsleden in Norway, you can contact Pilgrim Center Stiklestad for advice and guidance.
Frequently asked questions
What is St. Olavsleden?
St. Olavsleden is a pilgrim path from the Middle Ages. The trail extends through Swedish and Norwegian cultural landscapes from the Baltic Sea in the east to the Atlantic Ocean in the west, from Selånger (Sweden) to Trondheim (Norway). The St. Olavsleden was re-opened in 2013 after extensive renovation work.
How long is St. Olavsleden?
It is approximately 580 kilometres long. Thousands of markings and signposts indicate the way.
Is it possible to walk only parts of the route?
Yes, that is perfectly fine. The trail is divided into 29 daily stages from the starting point in Selånger to Nidaros cathedral in Trondheim. Each stage is about 20 kilometres on average, but some are up to 30 kilometres. You can also take day trips if that suits you best. The trail often passes roads and villages which means that it is easy to get onto it almost anywhere and walk a shorter distance.
How long does it take to hike the entire distance?
An estimated 30 days or so.
What time of year is best to go?
The main hiking season is from mid-May to mid-September. Snow may remain in May, and in September snow may have fallen in some locations. If you plan to go earlier or later than this period, you can contact the tourist offices/tourist information for more detailed information about the conditions along the trail.
How is the weather?
The weather is variable, the eastern part is usually warmer, the section from Östersund to Trondheim can be colder because it passes through the mountains. It can be a good idea to keep an eye on the weather services, SMHI.se and Yr.no, so that you know what to wear on your hike.

Are their grocery stores along the trail?
Yes, but in some places there's a longer distance between shops, such as from Borgsjö-Bräcke and Duved-Verdal (four days of walking), so it's important to plan ahead. On many of the sections there are restaurants and cafés where you can enjoy a moment's break in your pilgrimae.
How do I pay?
In Sweden and Norway, it's common to pay with credit cards such as Visa and Mastercard, this works in most shops. When it comes to accommodation, hotels and the larger facilities accept cards, but payment is mostly by cash or swish for private accommodation.

Is it possible to drink the water from streams and lakes?
Yes, in most places. Please choose a waterway with running water, where the water isn't standing still.


Is there any guidebook about the trail?
Yes, there's a guide book in four languages, Swedish, English, German and Dutch. The Swedish guide provides detailed information about all 29 stages, and the cultural and natural experiences along the trail. You can buy the book here.
Tourist offices
There are tourist offices in the following places along the trail; Sundsvall, Borgsjö, Östersund, Krokom, Åre and Trondheim. You can buy and stamp your pilgrim passport there and also receive useful information about the area you are in. Please note their opening hours.

Pilgrim passports and stamps
There's a long tradition of Pilgrim passports and stamps; in former times they certified that you were a true pilgrim. Pilgrim passports still exist today, but more as a nice symbol and a pleasant travel memory. If you would like to have a diploma for your hike you need to have a pilgrim passport with stamps that show that you have hiked at least 100 km or biked/ridden at least 200 km of the last part of the St. Olavsleden before the final destination Trondheim.
You can collect your stamps at your accommodation, churches and other places along the trail. You can buy a pilgrim passport at all the tourist offices along the trail (note their opening hours) Selånger's parish, Quality Comfort hotel in Sundsvall, at reception of The cultural centre in Stiklestad, Nidaros Pilgrimsgård in Trondheim and the website S:t Olavsledens shop
Internet
In Sweden and Norway the 3G, 4G, (and 5G in certain places) networks are well-developed along the St. Olavsleden. Several places of accommodation also offer wi-fi to guests and wi-fi is also available at tourist offices.
Phone numbers in case of emergency:
Sweden: Emergency services :112, Police: 114 14 (for non-emergencies)
Norway: Ambulance: 113, Police: 112, Fire services: 110
You can read more about hiking preparations and safety at Fjällsäkerhetsrådet (the mountain safety council of Sweden)
Need more help?
If you need more help or guidance, our regional pilgrimage centres are always ready to help you. Contact me, Janne, and either I will answer you or one of my colleagues at the other regional pilgrim centres. Save time by checking if the answer to your question already exists on Frequently Asked Questions.
Route suggestions along St. Olavsleden
[[ notice ]]
We found no trail suggestions.
Try to filter on something else.