Nidaros Pilgrim Center
Nidaros Pilegrimsgård is beautifully situated by teh river Nidelven, close to the cathedral. A quiet place, in the heart of the city.
At Nidaros Pilegrimsgård you are warmly welcomed by our host. Here you get the last stamp in the passport, The Olav's letter and a pilgrimage mark which gives free entrance to the cathedral. Here you also get reasonable accommodation and the opportunity to have a snack in our nice café. Sit down in a good chair, take a rest, and share your unique story with other pilgrims and lokals.
Nidaros pilgrimsgård is also the information center for the St. Olavs Way - Pilegrimsleden to Trondheim. Check in before you leave, for helpful tips and guidance for walkers before staring your pilgrimage.
Pilgrims can spend a reasonable night at Nidaros Pilegrimsgård by displaying stamped pilgrim passports. We also have an open café with all rights. As a pilgrim, you can enjoy the offers of our pilgrim partners around the city.
Pilgrim Accommodation
Prices from *:
Single room: NOK 890, - per night
Double room: NOK 1110, - per night
Triple room: NOK 1480, - per night
Quadruple room: NOK 1700, - per night
Private parking is possible on site (reservation is needed) and costs NOK 150 per day.
Free wi-fi.
* We reserve the right to change prices during certain periods.


For booking contact :post@pilegrimsgarden.no, or book by our webpage: Pilegrimsgarden.no.
For questions, contact us by phone: +47 73 52 50 00.
Pilgrimage prices for accommodation in 2020:


Pilgrims get 30% discounts on all rooms
The pilgrimage price is valid for 2 nights only. For guest nights beyond this, our standard rates apply.
Remember to bring a
valid pilgrim passport
that shows you have walked the trail.
Dogs not allowed.
Please note that our opening hours are:
Monday - Friday, 1 p.m. 9 am - 5 pm, Saturday and Sunday 2 pm - 6 pm.
All inquiries will be answered within this period.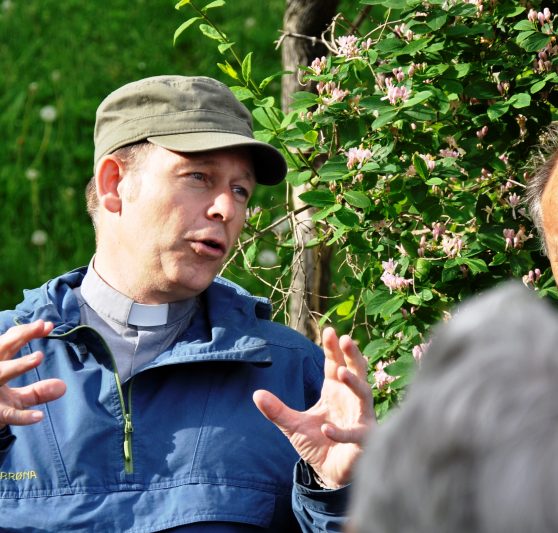 Pilegrimsprest ved Nidaros pilegrimsgård
Pilegrimsprest Einar Vegge har kontor ved Nidaros pilegrimsgård og kan delta i og arrangere organiserte pilegrimsvandringer på forespørsel.
Kontaktinformasjon:
E-post:
post@pilegrimsgarden.no
Telefon:
(+47) 73 52 50 00
Adresse:
Kjøpmannsgata 1, 7013 Trondheim
Åpningstider, resepsjon:
Hverdager fra kl. 9:00 - 17:00 (9:00-20:00 sesong 1.juni-1.oktober)

Helg 12:00 - 18:00
Åpningstider, pilegrimsmottak:
Hverdager 09:00-15.00 (17:45 i sesong)
Helg: stengt (14:00-17:45 i sesong)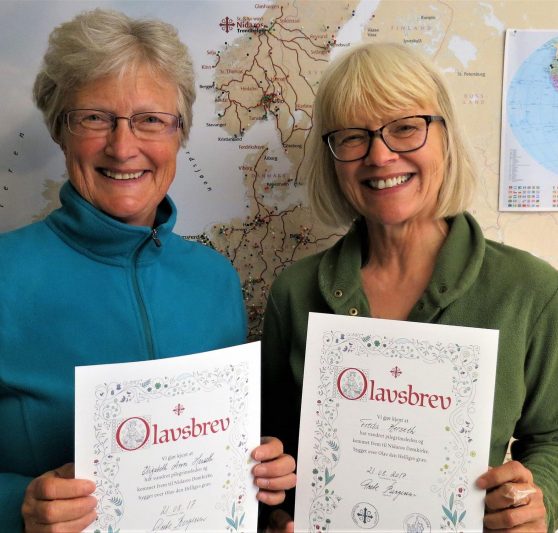 Olavsbrevet
Olavsbrevet utstedes kun her på Nidaros Pilegrimsgård, og er et bevis på at du har vandret de ti siste milene inn mot Trondheim og Nidarosdomen. Har du vandret de siste ti milene inn mot Trondheim og Nidarosdomen kan du be om å få Olavsbrevet som bekreftelse på at du har vandret pilegrimsvegen. Man viser frem pilegrimspasset med stempel og påtegninger som dokumentasjon. I vårt pilegrimsmottak får du bekreftet at du har gjennomført din vandring ved stempel og underskrift.
Les mer