Friends on a pilgrimage
An increasing number of people are taking to the outdoors for their summer holidays. More and more are becoming aware that The St. Olav Ways in Norway are an attractive alternative for those seeking adventure and the spiritual in nature.
In Norway, we have no less than nine pilgrim paths, or St Olav Ways, each leading to Nidaros Cathedral in Trondheim. You can follow the same historical paths as thousands of pilgrims before you. The pilgrim paths take you through the Norwegian cultural landscape specked with farms both large and small, past towns, and up to beautiful summer mountain farms. They follow rivers and lakes and cross spectacular mountain ranges – and not least over the roof of Norway: the majestic Dovre Mountain plateau.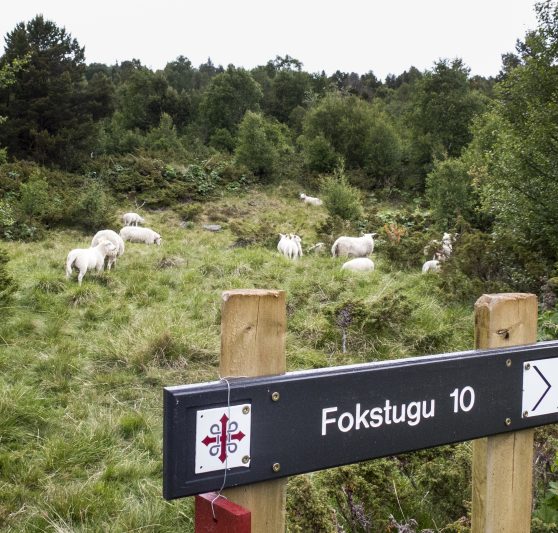 Walk the path in stages
After climbing your way up to the Dovre Mountains, it's a welcome sight to see the pilgrim symbol. The 10 km walk across to Fokstugu should be an easy stroll along the gentle plateau trail. Photo: Eskil Roll
Short and long trips
You can plan for both shorter and longer trips. Public transport is available many places along the different pilgrim paths to Trondheim, so you should easily be able to plan to take a week or a long weekend walk along the path. More and more people have discovered this opportunity. Among them are pilgrim walkers Mari Sveen Kvam and Anne Helseth Udal, who we meet at the historic Budsjord pilgrim farm right before they embark on the stretch across the Dovre Mountains.

"We have been friends for over 30 years, ever since we were students," they say.
The pair started their walk in Oslo and have so far completed seven stages.
"Our first walk along the pilgrim path was just a day trip, and we went from the Medieval Park in Oslo, through Bærum and up to Lommedalen."

The following year they started in Lommedalen, and spent six days walking through Toten, Hadeland and up through the Gudbrandsdalen valley to the Dovre Mountains.

"We walk about 15–20 km every day, depending on the terrain and train times, and we enjoy following our impulses, starting and stopping our daily stages based on how we feel," they say. "For us, this has become a tradition that we look forward to every year and a unique opportunity to experience Norwegian nature and all the different cultural landscapes along the path."

They think it's a nice change from a normal mountain hike because they have the chance to enjoy different trails and experience the unique nature, culture and history a variety of places, and it's interesting to see how the landscape changes from the open agricultural areas of the south to the valleys and mountains of the north.
Close to nature and people
"For us, this walk is of course an outdoor experience, but we also really enjoy meeting people along the way, both hosts and other pilgrims. It is always a special experience to meet other pilgrims following the path. We've met people on pilgrimages from many countries, and we have even got to know a number of them quite well."
The inner journey
Anne and Mari say that when you walk with trekking poles as they do, you fall into your own rhythm and the monotonous sound and movement of the poles produces a kind of mindfulness effect. "Then you are open to let the 'big questions' creep in: the meaning of life, the mystery of suffering, God's hand in our lives and similar philosophical reflections," says Mari.

"Meeting other pilgrims, who talk of life crises and who experience the pilgrimage as a kind of therapy, has also left a lasting impression."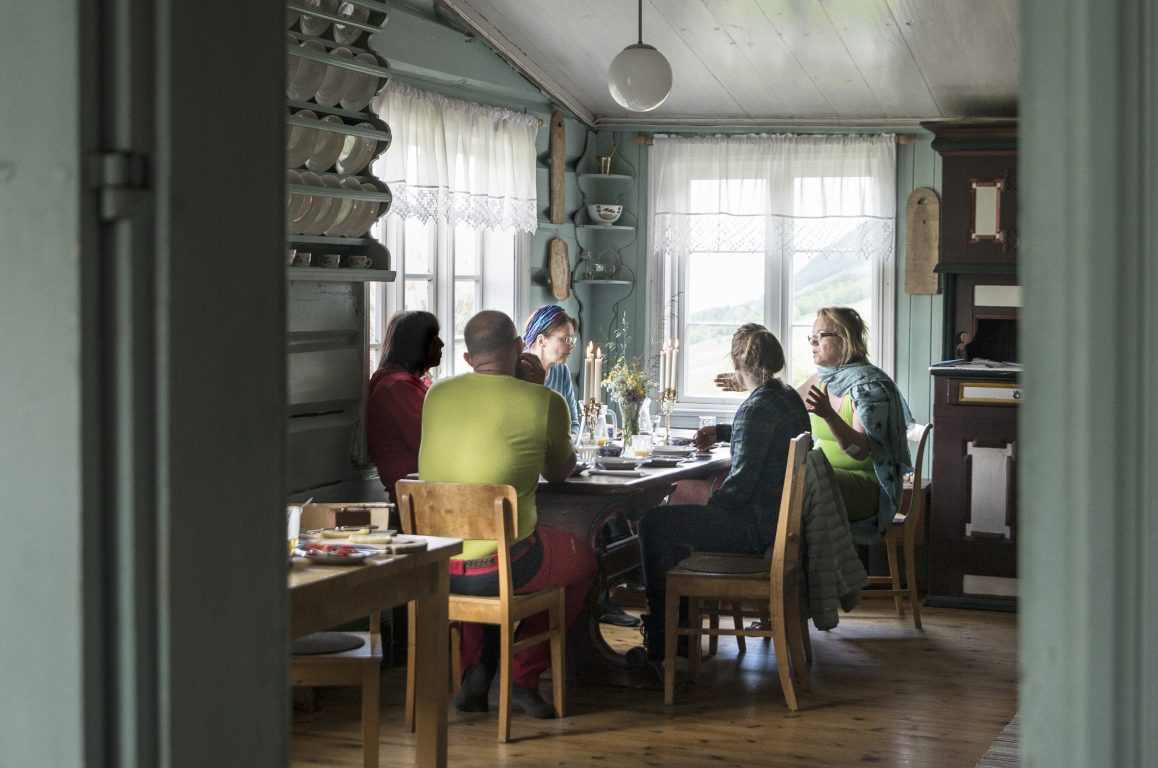 Warm and welcoming hosts
They cannot emphasise enough how warm and welcoming the hosts have been at many of the places they have stayed along the way.
"People are so friendly and hospitable to pilgrims, and that is part of what makes this a truly one-of-a-kind experience. We have stayed at many lovely places, and would like to mention Fokstugu in Dovre as a particularly special experience. At this mountain farm, they keep the old pilgrimage traditions alive with morning and evening Mass.
It was also great to arrive at Engelshus farm at the north end of the Gudbrandsdalen valley. They are the nicest and most caring hosts you can possibly imagine. Engelshus is an incredibly beautiful, restored historic farm. They served delicious food in the family living room and they had the most beautiful bedroom I have ever slept in," says Anne.
Mari and Anne have prioritised eating well and sleeping comfortably along the way. They are only carrying as much as is comfortable and they have chosen not to have a tent and sleeping bag.
"We always bring as little as possible. You can get what you need in the way of food as you go. And if the weather takes a turn for the worse, you can always take the first bus or train home. It's not like you have to be anywhere at a specific time," they say.
A great tradition for friends
"Oh, we'll make it to the Nidaros Cathedral in Trondheim eventually," they laugh. "For us, the most important thing is the journey itself and the experiences we have along the way, but naturally we are looking forward to arriving in the city where we met as students!"

They warmly recommend a pilgrimage to Trondheim as a friends' holiday. For the two friends, it has become an annual tradition they never want to miss.
Useful tips!
Walking the St. Olav Ways, also called the Gudbrandsdalsleden, from Oslo to Trondheim in several stages makes for perfect holiday adventures for both families and friends.
A number of places serve both individual dishes and 3-course meals based on local foods, as well as breakfast and packed lunches.
You can also join an organised walk with a guide and there are package tours that include food, accommodation and luggage transport from place to place.
The Gudbrandsdalsleden is 643 km long and can easily be broken up into several stages as the path leads you past many towns. This makes it easy to plan trips in combination with public transport such as buses and trains.
You can plan a trip ranging from a few days to a few weeks. No matter what you choose, the pilgrim paths to Trondheim offer fantastic outdoor experiences.
Test out the trip planner. You can plan your trip, download maps, get an overview of points of interest and see what types of accommodation are available along the way.