Nidaros Cathedral - The pilgrim destination
The shrine of St. Olav in Nidaros Cathedral has been an important object of pilgrimage since the Viking king Olav Haraldsson was ordained as a saint in 1031. What kind of experience is it to arrive here today?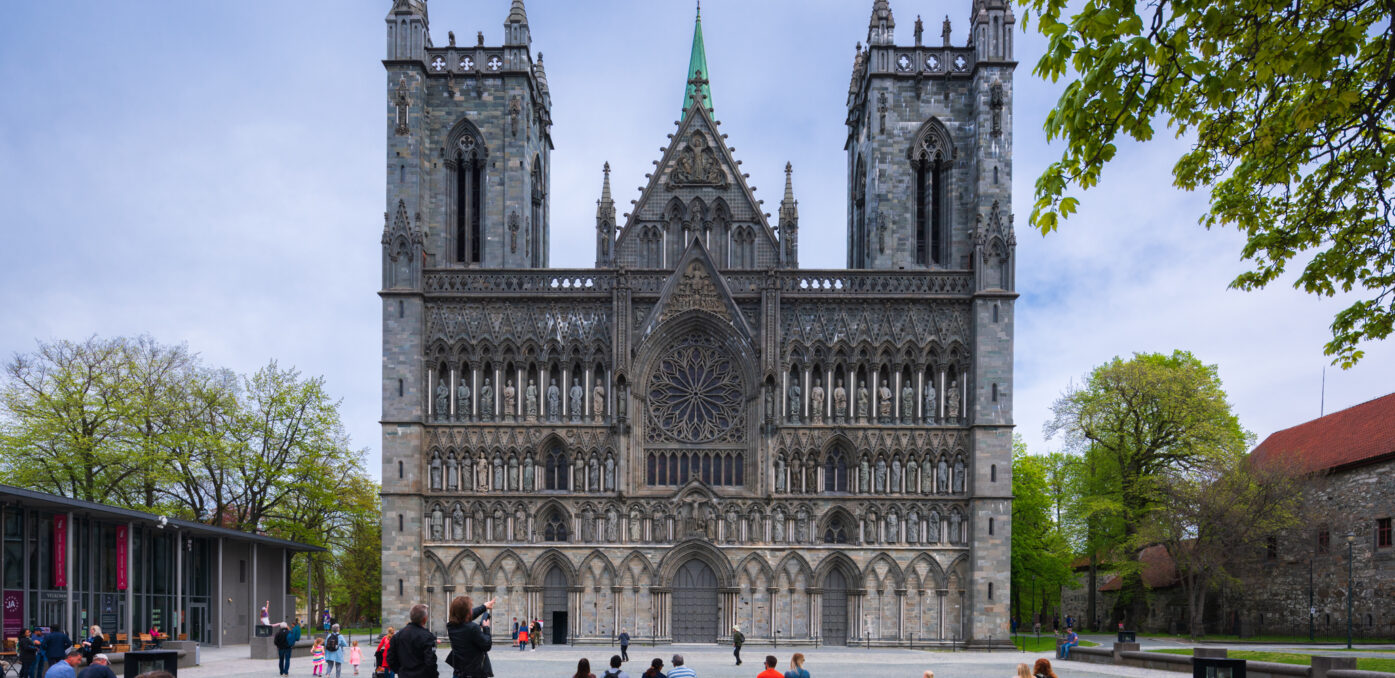 The pilgrimage destination of the North - a powerful sight
Nidaros Cathedral in Trondheim is a favourite pilgrimage destination for pilgrims from all over the world. The cathedral, which had its early beginnings as a wooden chapel built over St. Olav's tomb, has evolved into a magnificent cathedral. Nidaros Cathedral is the place where Norwegian monarchs are crowned and is Norway's national shrine. For the pilgrims of the Middle Ages and today, Nidaros Cathedral was and is a powerful sight. The cathedral is an architectural masterpiece with intricate stone sculptures and stained glass windows. A fantastic result of impressive craftsmanship from generations of stone carvers, masons, glass masters and blacksmiths. Imagine what number of people have lived, visited, worked upon and experienced this Nordic cathedral throughout the centuries. What stories are in these walls?
The rituals of pilgrimage upon arrival
It is said that as a pilgrim, one should approach slowly when one arrives at the pilgrimage destination of Nidaros. Historical rituals of pilgrimage state that one must walk around the cathedral three times before entering the cathedral and the octagon where a copy of St. Olav's scrine stands and where it is believed St.Olav is buried. It is first then that the pilgrimage to Nidaros is completed.
The oldest cathedral in the north
As you walk around the church you will fail to be impressed by the majestic edifice that is Norway's national shrine.
Built out of soapstone in the gothic style, with its magnificent green copper spire topped by a golden ball, it is a visible landmark for miles around. We recommend that you set aside a fair amount of time to experience the cathedral. Taking a guided tour is highly recommended.

Nidaros Cathedral is located in a beautiful historic area in the middle of Trondheim, on a natural promontory that the river Nidelven winds lazily around. Trondheim's historic Archdiocese is located just beside the church and along the river south of the Archdiocese you will find a large park area called "Marinen" where "St Olav's Spring" is located. The story associated with this water source states that it sprang up where St. Olav's coffin was excavated in the year following his death, then becoming a place of pilgrimage in the Middle Ages.
Facts about Nidaros Cathedral
Norway's national shrine and the oldest medieval church in the Nordic region
After demolishing the chapel that stood there, Olav Kyrre began construction of the stone church in 1070
The Archbishopric was established in 1153. After a trip to England in 1183, Archbishop Eystein Erlandson altered the building style of the cathedral from Romanesque to High Gothic, having been inspired by the church buildings he saw on his travels
The foundations of the mighty West Front were laid in 1248 and later the Choir was built in a solid High Gothic style
The cathedral has been damaged by several fires, the first of which was in 1328, then again in 1432 and 1531
The main spire blew down in 1689 and the cathedral burned again in 1708 and 1719
The Nidaros Cathedral Restoration Workshop was established in 1869, commencing the modern restoration period
The restoration has been continuous for the last 150 years and is still ongoing
The church is 50 meters wide and 100 meters long. The spire is 91 meters high
The West Front has 76 statues and many reliefs. The large Rose Window in the centre of the wall is 8 metres in diameter. It is presumed that the decor and statues on the Western Front were originally painted in bright colours